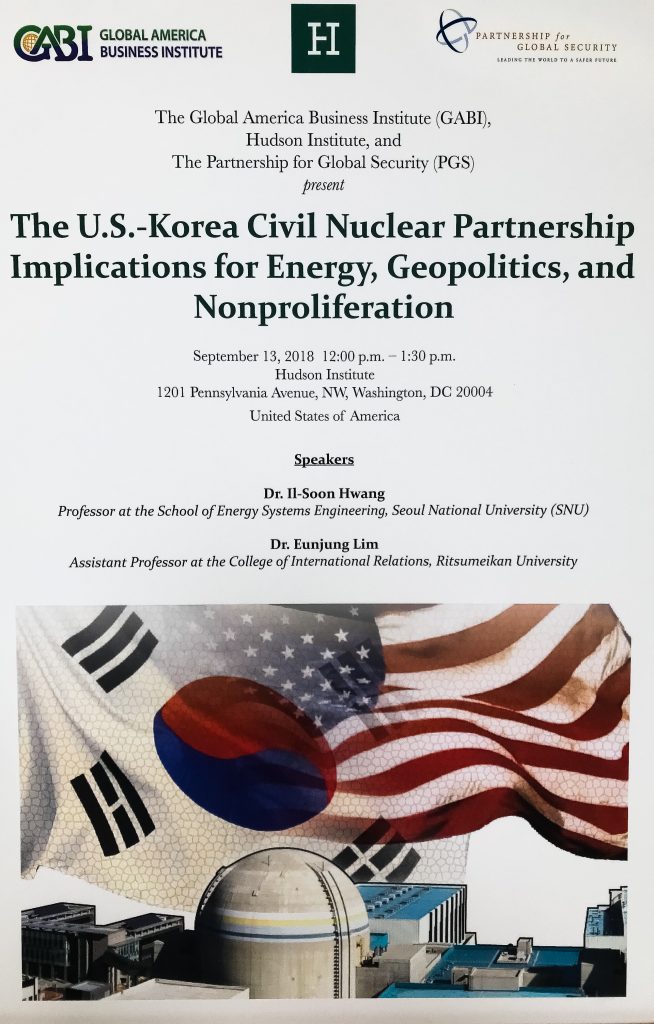 Last week, the Partnership for Global Security, the Global America Business Institute and Hudson Institute hosted a conference on the U.S. - Korea civil nuclear relationship, which has long been a cornerstone of international nuclear cooperation and a vital alliance supporting the nuclear safety, security, and nonproliferation regimes.
The future of this partnership has far-reaching international impacts on: international nuclear markets; the development and deployment of next-generation nuclear technologies; the maintenance of geopolitical influence in key regions; maintaining robust international nuclear standards and practices; and broadening access to clean, and also reliable electricity in a world facing both rapid energy demand growth and increasing environmental and climate pressures.
Speakers Bio:
Dr. Il Soon Hwang
Is a professor in the School of Energy Systems Engineering at Seoul National University. Previously, he led Korean implementation of the IAEA Periodic Safety Review (PSR) and the development of the advanced nuclear waste partitioning and transmutation technology, known as PEACER-Pyro Green, while serving as the director of the Nuclear Transmutation Energy Research Center of Korea and as a member of the Korea National Academy of Engineering. Dr. Hwang chairs or co-chairs the IAEA Advanced Partitioning Expert Group, OECD-NEA Task Force on Lead-alloy Collant Technology and the Forum on Climate Change and Energy Policy, the Nuclear Power Infrastructure Development Seminar (NUPID), and finally the Summit of Honor on Atoms for Peace and Environment (SHAPE).
Dr. Hwang is a nuclear energy specialist with expertise in nuclear plant integrity and nuclear waste transmutation. He received his B.S. from Seoul National University and his PH.D. from the Massachusetts Institute of Technology (MIT).
Dr. Eunjung Lim 
Is an Assistant Professor at the College of International Relations, Ritsumeikan University. Her areas of specialization include international cooperation, comparative and global governance, and energy security policies of East Asian countries. Specifically, she has been working on nuclear issues in East Asian countries.
Before joining the Ritsumeikan faculty, Dr. Lim taught at Johns Hopkins University SAIS (2013-2017). Dr. Lim also taught at several universities in Korea, including Yonsei University and Korea University. She has also been a researcher and visiting fellow at several institutions, including the Center for Contemporary Korean Studies at Interfaculty Initiative in Information Studies at the University of Tokyo, the Institute of Japanese Studies at Seoul University, the Institute of Japan Studies at Kookmin University, and the Institute of Energy Economics, Japan.
She earned a B.A. from the University of Tokyo. Later, she earned her M.I.A. from Columbia University and a Ph.D. from SAIS John Hopkins University. She is fluent in Korea, Japanese, and English.